Enigma (Wikipedia) was a World War II-era rotor machine used by Nazi Germany, amongst others, and was famously broken by Allied cryptographers.
Where can I see one?
[
]
Australia
[
]
Powerhouse Museum, Sydney (3 rotor Enigma machine) [3]
Belgium
[
]
Canada
[
]
Germany
[
]
[6] Both 3 and 4 rotor Enigma machines.
Luxembourg
[
]
United Kingdom
[
]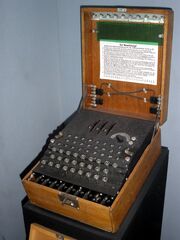 Bletchley Park, Bletchley, near Milton Keynes. In December 2004, they were exhibiting a four-wheel Naval Enigma (M4), two three-wheel Enigmas, and an "exploded" Enigma rotor display.
Imperial War Museum, London. A 3-wheel Enigma.
Science Museum, London. The museum has a three-wheel Enigma on display.
Mark Baldwin, itinerant lecturer. Dr Baldwin's presentations are accompanied by a four-wheel Enigma machine.
Royal Signals Museum, Blandford Camp, Dorset. The museum has a three-wheel Enigma on display.

Polish Institute and Sikorski Museum

, London, which has a World War II Polish duplicate of the three-wheel Enigma.
HMS Belfast, London. A 4-wheel Naval Enigma.
United States
[
]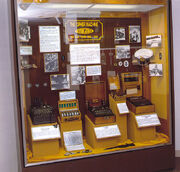 Switzerland
[
]
External links
[
]