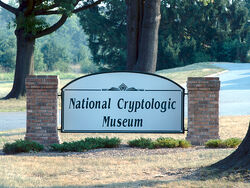 The National Cryptologic Museum (Wikipedia) is part of the National Security Agency and holds exhibits related to the codebreaking activities of the United States. The museum is located in Ft. George G. Meade, Maryland, about 25 miles northeast of Washington, DC. The museum is open to the public and admission is free.
What is there to see?
Edit
Cipher machines
Edit
Several Enigma machines -- including one you can actually use.
A Geheimschreiber T52D.
A Hebern code machine
A SIGABA / ECM Mk II machine
A mock-up of part of a SIGSALY installation
Cryptanalysis equipment
Edit
References
Edit
Louis Kruh, A Pictorial Tour of the National Cryptologic Museum, 18(4), October 1994, pp381–389.
External links
Edit
Community content is available under
CC-BY-SA
unless otherwise noted.