The United Kingdom (Wikipedia) (Wikitravel).
See also: (Wikipedia) (Wikitravel)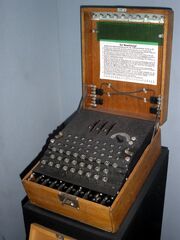 Elsewhere
Edit
Dorset: Royal Signals Museum, Blandford Camp, Dorset (a 3-wheel Enigma machine, Rockex, a 'Derby' cipher machine, M-209-B, Typex, Portex, Slidex, a Crypdix device, a "codes and ciphers" display, various others) [8].
Jersey: Jersey War Tunnels, Jersey (Enigma)[9], [10].
Guernsey: Occupation Museum. A 4-rotor Enigma with plugboard.
Bedfordshire: Intelligence Corps Museum. (A 3-rotor Enigma and a NEMA) [11], [12].
Portsmouth: Royal Naval Museum. (Unusual 4-rotor Enigma with missing reflector; 4th rotor has been "doctored" to act as a reflector: [13]).
Liverpool: Derby house, (Western Approaches). Contains a "decoding room" where messages were decrypted, and possibly an Enigma exhibit (can anyone confirm?): [14], [15]
N/A: Mark Baldwin (3-wheel Enigma)
Community content is available under
CC-BY-SA
unless otherwise noted.